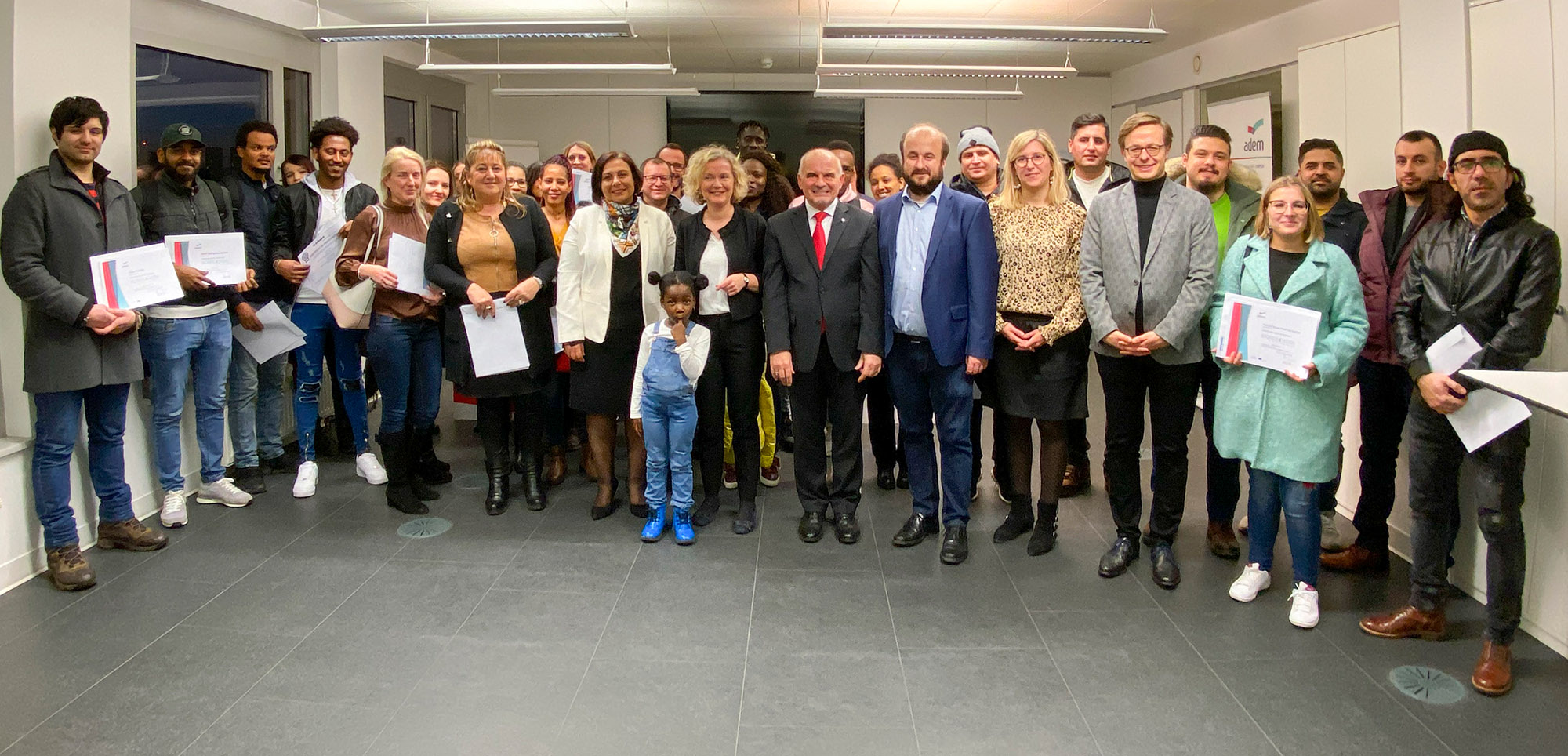 On 20th January 40 jobseekers received their certificates for successful participation in the "Words4Work" training course. This is an intensive French language course tailored to the language used in various professions. The certificates were handed over by Isabelle Schlesser, Director of ADEM, Pierre Hobscheit, Conseiller de gouvernement in the Ministry of Labour, Maisy Gorza, Deputy Director of the Institut national des langues (INL) and Jean-Pierre Piersanti, Director of Inlingua.
Words4Work" is an innovative project developed by ADEM in collaboration with INL. The project runs from 2019-2020 and is co-financed by the European Social Fund. It aims to provide jobseekers registered with the ADEM with the necessary basic French language skills needed in professional life.
The language training is provided by the language school Inlingua (Lux-Langues SA), which was selected for this project following a public call for tender. The intermediate and final exams are taken at the INL.
For many jobseekers registered with the ADEM, a lack of language skills is a major barrier to entering the labour market. This is particularly true for professions in which French is the predominant language. For this reason, "Words4Work" is aimed at jobseekers wishing to work in sectors such as commerce (sales), construction/craft (painters, carpenters, bricklayers, etc.), hotel and catering (kitchen staff, cooks, hotel staff) and cleaning.
During the intensive course, students will receive 100 hours of general French language lessons during four weeks. This is followed by two 30 hours in the respective sectorial language for two weeks. At the end of the training, the participants take an examination at the INL.
Among the 40 participants, including 12 beneficiaries of international protection, 19 nationalities were represented.