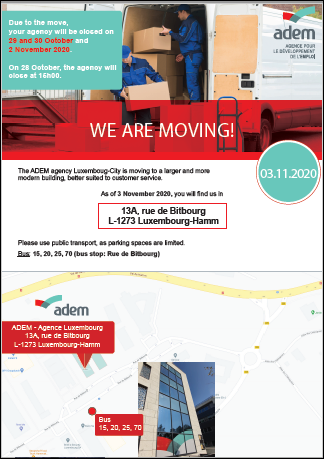 ADEM: Relocation of the Luxembourg City agency
ADEM informs that its Luxembourg City agency, currently located at 10 rue Bender, L-1229 Luxembourg, will move to new modern premises that are better adapted to client needs.

The new address of ADEM's Luxembourg City agency will be, as from Tuesday, 3 November 2020:

13 A, rue de Bitbourg

L-1273 Luxembourg-Hamm
The telephone numbers, e-mail addresses and P.O. Box number (PO Box 2208) remain unchanged.
Clients are kindly requested to use public transport, as there are only a few parking spaces available (bus lines: 15, 20, 25, 70 - stop: Rue de Bitbourg).

Due to the move, the Luxembourg City agency will be closed on 29 and 30 October and 2 November. On 28 October, the agency will close at 15:00.