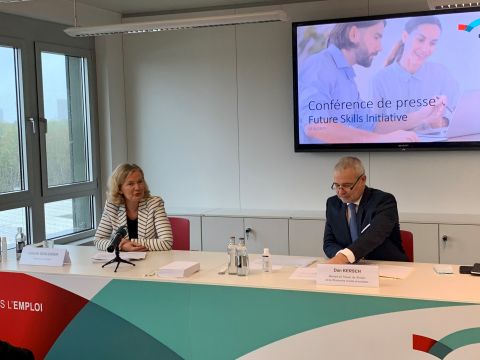 The COVID-19 pandemic has fundamentally changed the world of work and, in particular, has advanced automation and digitization. Many sectors and professional fields are changing at an unprecedented level and speed and require new skills.
This is exactly where the "FutureSkills" initiative comes in. One focus of the initiative is a new training course with a practical component for job seekers.
"With the FutureSkills training program, ADEM invests in the targeted development of skills that are required on the job market," explains Isabelle Schlesser, Director of ADEM.
As part of the "FutureSkills" training course, participants selected by the ADEM can strengthen and expand their core competencies and apply them in practice in order to make good use of the period of unemployment and to stay active.
The training is aimed at recipients of unemployment benefit who have at least a secondary school diploma (2ème), speak French and have a basic knowledge of Luxembourgish.
The participants must be motivated to acquire new skills and capable to take part in online training (e-learning.
The training part, which is carried out in cooperation with the House of Training of the Chamber of Commerce and the Luxembourg Lifelong Learning Center of the Chamber of Employees, lasts three months and includes skills development in the key areas:
Soft skills (communication, creativity, adaptability)
Digital skills (digitization, cooperation tool, etc.)
Project management skills
Further training in the office area or programming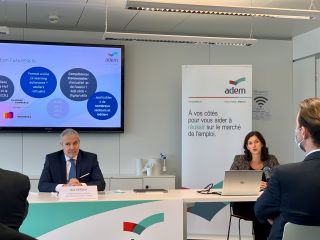 The Minister for Labour, Employment and Social and Solidarity Economy, Dan Kirsch, thanked the project partners for the good cooperation with ADEM and the training institutions.
The intensive training is followed by a six-month internship in the public sector (state, municipality, public institutions, etc.), during which the participants can perform different tasks: processing case files, analyses, research, communication, administration of websites, .... )
The internship is carried out as part of the employment measure of temporary paid employment (occupation temporaire indemnisée - OTI) and allows participants to receive a bonus in addition to unemployment benefit.
Throughout the measure, participants continue to actively seek work and remain available for the job market.
Dan Kersch appeals to the public sector. "Get involved alongside with ADEM and offer internships for the "OTI-FutureSkills" measure. In this way you support the reintegraton of jobseekers into the labour market!"
Ines Baer, ​​coordinator of the FutureSkills Initiative of ADEM presented two further focal points of the initiative:
Studies and sectoral surveys that aim to anticipate the development of jobs on the labour market and to find out in which areas employees specifically need further training.
Support companies in analyzing and planning their workforce.