Personal skills, or so-called soft skills, already represent the major part of the skills requested by Luxembourg employers (55% according to a recent LISER study
Moreover, these skills remain relatively stable and are more resilient to technological changes that directly affect jobs. These clearly human skills (such as communication or creativity) even gain in importance because of technological progress, since they are not easy to automate and rather complementary with new technologies. Although they may appear less tangible as technical skills, soft skills can also be trained in order to get reinforced.
The Soft Skills eAcademy offers the possibility to strengthen in an autonomous fashion following personal skills:
1. Learning to learn
2. Social codes
3. Conflict management
4. Becoming proactive
5. Going straight to the point (synthetizing)
6. Managing hyperconnection
7. Managing one's priorities
8. Creativity techniques
9. Collaboration tools
10. e-branding
11. Mastering the job interview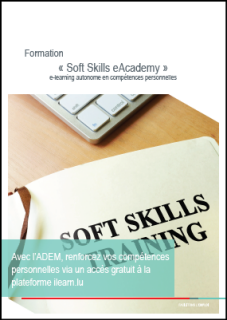 If you match the eligibility criteria*, you may apply for your personal access here
(your application will have to be validated by ADEM and the attribution processing time may require a few weeks)
FAQ
Is access free?

Yes, access is free for eligible jobseekers
What are the training topics available on the platform?

The following 11 modules of an estimated duration of +/- 3 hours each are available:

Learning to learn
Social codes
Conflict management
Becoming proactive
Going straight to the point (synthetizing)
Managing hyperconnection
Managing one's priorities
Creativity techniques
Collaboration tools
e-branding
Mastering the job interview
What languages are available for these training programs?

The training modules are only available in French.
Best conditions for good training?

Get installed in a calm place (at your home, in the public library, …), use a desktop or laptop computer (warning: tablets and smartphones are not supported), make sure you comply with technical recommendations (minimum Windows 10 on PC or OS10.14 on MAC; Google Chrome browser installed) and a stable internet connection.
When do accesses expire?

Your access is valid for a period of 3 months from the day of activation (even after your ADEM file were to be closed).
Will I receive a certificate for those training programs completed?

A certificate of achievement can be downloaded from the platform once all 11 modules have been completed (as well as the related quizzes).
In case of any further questions, please contact us at formation@adem.etat.lu