Various documents and websites are on offer in order to provide you with advice on the profession that best suits you.
Beruffslëscht
The "Beruffslëscht " (list of professions) lists all professions available through vocational training.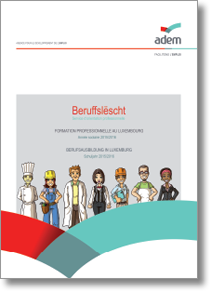 "Anelo" portal
It is probably on the portal Anelo that you will find answers to the majority of your questions. Based on an initiative by SNJ, ADEM, CEDIES, and the Ministry of Education and Vocational Training, the portal brings together useful information, contacts, and links that will guide you in your search for employment, training, voluntary service, or internships. This dynamic and intuitive portal offers plenty of easy and quickly accessible information.