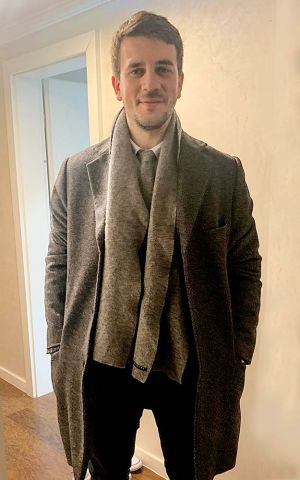 Erjon is barely 30 years old and already has a lot of experience as a globetrotter. However, he seems to have settled in Luxembourg for good, thanks in particular to his new job at Augment, a company located in the House of Startups.
Originally, from Athens, he has been passionate about computers since he was a child and describes himself as a 'geek'. After studying UIUX technology and graphic design in Italy, he went on to do internships and jobs all over the world: San Francisco, China and finally Canada, where he even launched his own startup in 2015; an app that allows blind pedestrians to better navigate street obstacles. After trying to set up there on a long term basis but due to administrative barriers, Erjon decided to sell his app and return to Greece.
He arrived in Luxembourg three years ago thanks to his recruitment in an industrial company, and he is gradually making his mark in the country. A few months ago, he joined ADEM in order to find a new professional opportunity.
His words towards ADEM are very encouraging. He repeats that he loves ADEM, he owes it a lot. Indeed, it was through his search on the ADEM jobboard that he learned about the job opportunity offered by Augment. The start-up, whose mission is to bring facility management into the digital age through innovation and collaboration, by providing facility managers with an efficient and user-friendly information platform, was actively looking for a senior UIUX designer. Their CEO, Rida Klink, therefore called on ADEM's employer service to advertise his position and to be assisted by the specialist IT consultant, Carlo Ries. Erjon applied and was selected by the ADEM advisors who put him in contact with Augment. Now, Erjon is on a reintegration contract, but as the contract stipulates, he will be offered a permanent job prospect, a permanent contract, at the end of this measure. This is a sign that these measures are directly responsible for the integration of ADEM candidates into the labour market.
"It's the best job I've ever had," he says. "I often tell my friends that they should register with ADEM, it doubles their chances on the job market. In addition to my new and exciting job, I must also thank my advisor Nils Recken, who also provided moral support when I was feeling down and many of the applications I sent did not lead to a job."