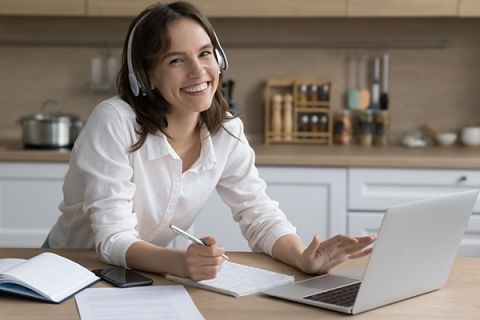 Starting from July 4th, all jobseekers registering with ADEM are required to take an online language test. This applies to the four main languages used in the job market: Luxembourgish, French, German, and English.
Access to the language tests is provided upon invitation by ADEM on the ADEM website (www.adem.lu). The offer will gradually be extended to all registered jobseekers. The main aim of the offer is to provide an objective and uniform assessment of the jobseekers' language level, which in the past was based only on the subjective information provided during the jobseeker registration process.
One of the key focuses of the "ADEM 2025 Strategy" is to better understand the clients' needs in order to serve them better. With the introduction of online language tests, there is now a new service that offers significant advantages for both ADEM and jobseekers.
By participating in the online language test, jobseekers will receive a reliable self-assessment of their current language proficiency level according to the Common European Framework of Reference for Languages (CEFR), ranging from A1 (beginner) to C2 (proficient). This can be beneficial for resumes and job applications. However, it should be noted that the online language test offered by ADEM to determine language proficiency does not automatically result in an official CEFR certificate. Official certificates require separate tests conducted by accredited language institutes. If jobseekers already possess a valid CEFR certificate at the time of registering with ADEM, they are exempted from taking the online language tests.
For ADEM, determining language proficiency levels provides the advantage of having an objective and standardized assessment of the language skills of each individual job seeker. This allows the support services provided by ADEM to be tailored more effectively to the individual needs of job seekers in terms of job placement and further training.
When matching jobseekers with employers, ADEM's employer advisors now have additional information and arguments to enhance the jobseeker's application to the company. At the same time, ADEM can suggest targeted training measures to jobseekers to improve their existing language skills, either in general or in specific professional contexts.
ADEM has established a close partnership with the National Languages Institute (Institut national des Langues - INL) and offers jobseekers specific language courses to quickly acquire basic language skills, particularly in sectors with a high demand for workers:
French for the sectors: trade, hotel and catering, cleaning, and healthcare.
Luxembourgish for the sectors: care, hotel and catering, education, and trade.
German for the sectors: healthcare, hotel and catering, construction, administration/finance, trade, and law.
English for the sectors: healthcare, construction, administration/finance, trade, education, IT, and tourism.