Hiring workers from other countries in Europe can provide businesses with the opportunity to find motivated and skilled workers, especially in the case of national work force shortages in specific economic sectors. It can also contribute to increasing corporate innovation and competitiveness.
However, finding workers from another European country can be a difficult task if you have not done it before. How do you get started? What should you consider? Who can offer you help and support?
Don't panic! EURES offers are there to offer free advice and assistance in European recruitment and mobility matters.
EURES advisors all over Europe are available to assist employers by offering expert advice on recruiting in Europe for specialised or hard-to-fill vacancies.
Via the EURES portal employers can find the appropriate candidate within the over 800k CVs. By creating an employer profile they can advertise their job offers and become visible on the European labour market.
Registered employers can directly search for CVs matching their requirements and view, save and organise candidates' profiles to make recruitment easier.
Take advantage of EURES services
Information about European labour mobility
Assistance in cross-border recruitment;
https://ec.europa.eu/eures/public/employers_en?app=3.9.1p1-build-0
Matching of job offers and candidates in Europe;
Organisation of international recruitment events in Luxembourg and other EU countries;
Specific support services for employers in cross-border regions
Financial support provided by the EURES Targeted Mobility Schemes
Use the network to reach out to a bigger audience
Matching of job vacancies and CVs on the EURES portal
Recruitment projects in and to other EU countries;
Dynamic recruitment events through the European (Online) Job Days platform
Are you an employer who wants to broaden your search for candidates?
On the new EURES Luxembourg recruitment platform employers who have difficulty recruiting staff in Luxembourg or who wish to broaden their skill base can get access to qualified jobseekers from all over the world.
Check the EURES Luxembourg recruitment platform work-in-luxembourg.lu for more information and post your vacant positions.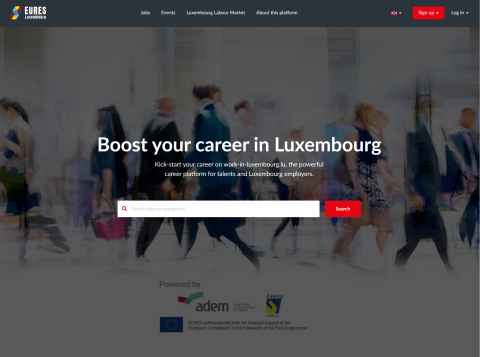 Interested?
Contact us: eures@adem.etat.lu